Dozens of tons of concrete blocks introduced in Henoko: Okinawa Defense Bureau forcing through new base construction
January 28, 2015 Ryukyu Shimpo
In relation to the U.S. Marine Corps Air Station relocation to Henoko in Nago City, a total of seven ships, including a large crane ship, have arrived at Oura Bay on January 27. The Okinawa Defense Bureau used a large crane ship to start the task of installing floating devices, which require concrete blocks to fix them into place. It is the most major offshore construction to occur so far. Okinawa Governor Takeshi Onaga had asked for the offshore work to be postponed as on January 26, he had set up an independent committee to study the issue including the possibility of cancelling or withdrawing the landfill. The Government has forced through the work without considering the Okinawa Governor's request.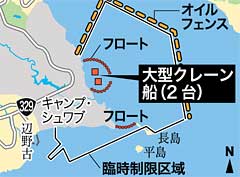 Governor Onaga says he will increase his opposition and deal with this issue as best he can.
According to the Defense Bureau, efforts will be made in order to start the work one hour after sunrise and finish it one hour before sunset in order to minimize effects to local wildlife like the dugong , as foreshadowed in the Environmental Impact Assessment Report. However, work on January 27 started before sunrise, just a few minutes after 7 a.m.
In addition, Okinawa Prefecture was requesting the Defense Bureau provide details about the concrete blocks as there is a possibility that they might crush and damage the coral reef. Despite the request, the Defense Bureau didn't reply and started the work, stating that it can't provide details of each individual stage of construction.
The Defense Bureau has deployed a total of seven ships, two large crane ships, and three barges for material handling, a few minutes after 7 a.m. on January 27 in Oura bay. The work was carried out inside the area marked by the floating device in the Camp Schwab beach. A large crane spiraled up and down as it dropped concrete blocks into Oura Bay.
According to officials, the construction area will be enclosed by a triangular-shape floating device over the next few days and as soon as it is ready, a temporary pier at the wharf will be installed so the reclamation work can be started. There are plans to conduct a sea-bed drilling survey at 12 sites in February, for which a large spud barge will be required.
The work area is surrounded by an oil fence, which was installed in order to indicate the temporary restricted area.
Amid warnings from the patrol boats of the Coast Guard, citizens who are against the relocation were not able to approach the work site.
(English translation by T&CT and Eishun Tokumori)
Previous Article:
Island-Wide Council to appeal to the United Nations, working with the Okinawa prefectural government
Next Article:
Diet, prefecture, city, town and village assembly members sit-in protest against new US base in Henoko
[Similar Articles
]