Shipping of Japanese tiger prawns starts in Okinawa
November 29, 2013 Ryukyu Shimpo
The shipping of Japanese tiger prawns has begun in Okinawa before entering the month of December. Prawns are popular as year-end gifts.
Staff at the Ginoza Prawn Farm were busy on November 28 picking and boxing the prawns caught in the local outdoor aquafarm. Shipping the prawns starts from September and will end next July.
The farm ships 45 tons of prawns every year and about three tons in December, when many people place orders.
Prawns about 20 centimeters long are one of the most popular products. The president of the farm, Tadashi Kawasaki, said, "We've produced some good-quality prawns this year too. I hope many people enjoy eating them."
(English translation by T&CT, Mark Ealey)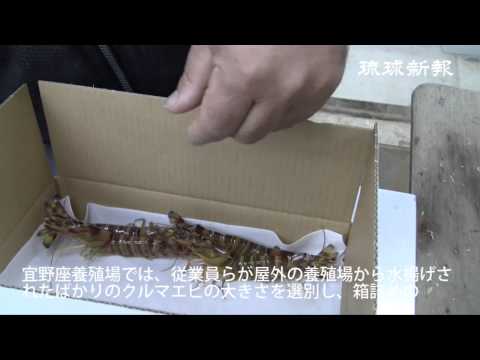 Go To Video
Previous Article:
Nago Mayor asks Okinawa governor to reject Henoko landfill
Next Article:
OCVB calls for improvement in translation and WiFi services in Okinawa
[Similar Articles
]