JSDF sends Missile Regiment to Naha during drill to recapture islands
November 8, 2013 Ryukyu Shimpo
On November 7, Japan Ground Self-Defense Force 4th Surface-to-Surface Missile Regiment (90 personnel) arrived at Naha Port on board a civilian transport ship. This is part of the Ground, Maritime and Air Self-Defense Forces exercises to recapture islands. Thirty vehicles are ready at the Ground Self-Defense Force Garrison Naha.
According to the Self-Defense Forces, the regiment deployed to Naha is a missile unit normally stationed in Hachinohe in Aomori Prefecture. After the ship docked in Naha Port at 7:00 p.m. on November 7, they unloaded the missile launcher vehicles and on November 8, the Self-Defense Forces will bring in more vehicles and supplies.
Civic groups held a protest rally in Naha Port in the evening of November 7. About 50 people took part in the rally, voicing their opposition to the drill, yelling, "Stop the exercise! It will increase tension in Asia." The protesters sat on the road to stop the vehicles loaded with goods from leaving the port but the police cleared away them resulting in a chaotic scene for a short while.
Hiroji Yamashiro, chairman of the Okinawa Peace Movement Center, said, "Armed conflict may occur if this goes ahead. Okinawa will become the battlefield. We will continue to raise our voices in opposition to create a peaceful island."
(English translation by T&CT, Mark Ealey)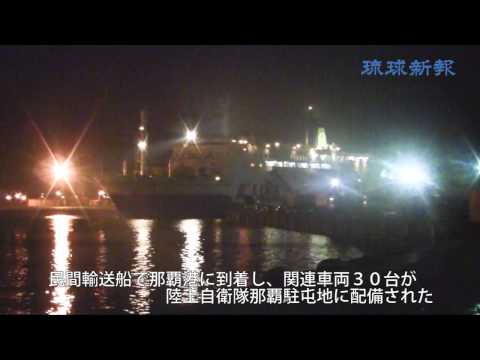 Go To Video
Pros of buying Viagra online:
Wondering why you should buy Viagra online at all? Okay with your current routine that requires regular visits to your doctor in order to get and renew your prescription? Well, looks like you don't really know what you're missing. Read on – there's more to ordering Viagra over the Internet than meets the eye.
Previous Article:
Ishigaki Island will not hold triathlon events next year
Next Article:
OPG asks Defense Bureau another 73 questions on Henoko landfill
[Similar Articles
]