Okinawa holds rally to promote Shimakutuba
September 19, 2013 Ryukyu Shimpo
The Okinawa Prefectural Government held the first Shimakutuba Citizens' Rally at the Okinawa Convention Center Conference Building in Ginowan City on September 18. The aim of the rally was to encourage Okinawan people to be become interested in Shimakutuba (Ryukyuan languages) and to promote a deeper understanding of the subject. It was also designed to help pass the languages on to future generations. About 570 people, including junior high school and high school students, took part in the rally. The government presented a 10-year plan to promote the use of Shimakutuba and participants declared they will work on promoting the languages in Okinawan society.
Okinawa Governor Hirokazu Nakaima said, "The languages that Okinawan people have been passing down in each community are the basis of Okinawan culture. They identify Okinawa. We want to pass on our culture to future generations."
Vice Governor Kurayoshi Takara said in Shimakutuba, "Please take good care of Shimakutuba."
The Okinawa Prefectural Assembly Chairman Masaharu Kina gave a 10-minute speech in the Okinawan dialect for the first time. He talked about when the assembly set up Shimakutuba Day in 2006, saying, "It is important that momentum has grown to reach what we have today. I hope that people start using Shimakutuba at home."
Okinawa Monorail, Japan Transocean Air, Daiichi Kotsu, and the Nakijin Village Culture Association also presented projects to promote the languages. The rally introduced Shimakutuba Radio Exercise with kindergarten pupils and songs designed to promote the languages.
A government public opinion survey on Shimakutuba indicates that while 80 percent of Okinawan people feel familiar with the languages, only 10 percent use the languages. UNESCO has recognised the Ryukyuan languages as being endangered and passing them on has become an important issue. The government plans to continue holding this rally every year.
(English translation by T&CT, Megumi Chibana and Mark Ealey)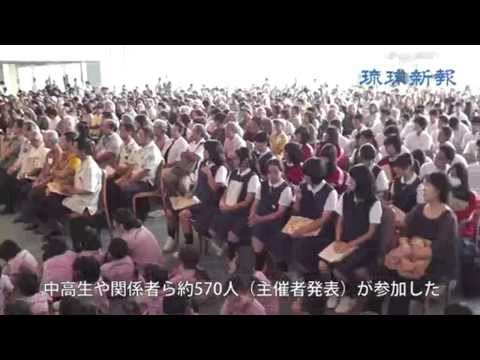 Go To Video
Previous Article:
Nago City Office signs up for diplomatic think tank
Next Article:
U.S.military completes deployment of more Osprey to Okinawa
[Similar Articles
]