Okinawa to build logistics center in Naha
September 6, 2013 Fumitetsu Jahana of Ryukyu Shimpo
The Okinawa Prefectural Government plans to start building a new logistics center in the international industrial clusters area in Naha in January 2014. It should be complete by February 2015.
With five floors above ground and a total floor space of about 26,000 square meters, it will be about nine times bigger than the building that Yamato Holdings currently owns in the area. Yamato is a major logistics services provider offering courier services in Asia.
The government hopes to attract logistics companies to the area. They intend to create an international logistic center by taking advantage of the air cargo business of All Nippon Airways (ANA) that uses Naha Airport as the hub.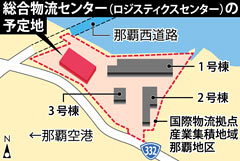 Construction will cost about 4.3 billion yen. A spiral road will be built to give containers and vehicles direct access to each floor and there will be rooftop parking for 100 vehicles. The government plans to begin business in the building in fiscal 2015. With three such buildings already in the area, the new center will be the fourth.
Yamato Transport, a subsidiary of Yamato Holdings, will move into the third building and will promote courier services in Asia using ANA hub projects.
The government has started a center for product parts in the area from August.
Toshiba Automation Systems Service, a subsidiary of the Toshiba Corporation, a multinational engineering and electronics conglomerate, moved into one of the buildings. The company is running trial operations with the center providing storage of product parts for the Asian and Western markets. More companies plan to move in the buildings.
Working with Yamato and ANA, the government hopes to attract centers for electronic product parts, repair centers and inventory control centers for e-commerce in Asia.
A government representative said, "So many companies want to move into the area that we cannot provide enough space. We want to continue to attract companies, further enhance our international logistics capacity and promote airport and coastal industries."
(English translation by T&CT, Mark Ealey)
Previous Article:
Ryukyu Shimpo and Sanin Chuo win 2013 Japan Newspaper Association Prize for joint project
Next Article:
Former University of the Ryukyus engineering official contributes 200 kilogram giant clam to Nago City
[Similar Articles
]