People vow to pass on lessons from tragedy
June 24, 2013 Ryukyu Shimpo
On June 23, the day commemorating 68 years after the battle of Okinawa ended, the Okinawa Prefectural Government and Assembly held the Okinawa Memorial Service for all the war dead at the Peace Memorial Park, Mabuni in Itoman. Those present prayed for the souls of the more than 200,000 people killed in the battle and vowed to create lasting peace in the world. Such memorial services were held at various war monuments around Okinawa. In her speech, the chairwoman of Bereaved Families of Okinawa Prefecture War Dead Joint Association Naeko Teruya referred to the people's growing opposition to the plan to relocate the facilities at U.S. Marine Corps Air Station Futenma to Henoko, Nago, and the additional deployment of MV-22 Osprey to Futenma this summer. She said, "There is no way that we bereaved families can accept these things. We want to have the Futenma base moved out of Okinawa." Chairman of the Okinawa Prefectural Assembly Masaharu Kina voiced the feelings of the people saying, "We are reaching the limits of our patience towards the unjust treatment that is repeatedly forced upon the Okinawan people."
Early that morning, many people visited the Peace Memorial Park to place flowers by the engraved inscriptions on the Cornerstone of Peace. Some older people told their children and grandchildren about their experiences during the war while tracing their fingers on the names of the war dead. People in the peace memorial parade departed from Itoman City Hall at 9:00 a.m., joining the memorial service after walking through the area that had been the bloodiest battlefield in the southern part of Okinawa Island.
About 5,800 people, including families of victims and distinguished guests attended the ceremony. At noon, everyone bowed their heads to offer silent prayers. In addition to Prime Minister Shinzo Abe, House of Representatives Speaker Fumiaki Ibuki and President of the House of Councilors Kenji Hirata, Foreign Minister Fumio Kishida, Defense Minister Itsunori Onodera and U.S. Ambassador John Roos took part. This is the first time that the foreign minister and defense minister have attended this ceremony. In the peace declaration of memorial service, Okinawa Governor Hirokazu Nakaima stressed, "We will pass on the lessons learned from the tragedy of the Battle of Okinawa. We have a strong desire to preserve the pacifist stance that Japan has created." The governor referred to the no war clause of Article 9, which is the underlying principle of the Constitution of Japan. It could be viewed that the governor was expressing concern about the movement by the Abe administration to amend the constitution. Prime Minister Abe said, "Concentrating U.S. military bases in Okinawa has become a major burden on the people. I will do my best to lessen this even a little."
Yuki Asato, a first-grade pupil of Kubura Elementary School on Yonaguni Island, was applauded when he read out his poem entitled, "Peace, it's really nice." This year, the Okinawa Prefectural Government has added the names of a further 62 people to the inscription on the Cornerstone of Peace, bringing the total number to 241,227.
(English translation by T&CT, Mark Ealey)
Glossary
Okinawa Memorial Service for war dead
This service was first held in 1952 under the United States' administration, but now, the Okinawa Prefectural Government holds it annually. In the 33rd Memorial Service in 1977, the 32nd anniversary of the Battle of Okinawa, then Governor Koichi Taira first read out a peace declaration designed to realize lasting world peace. In 1990 Toshiki Kaifu became the first serving prime minister to attend the ceremony.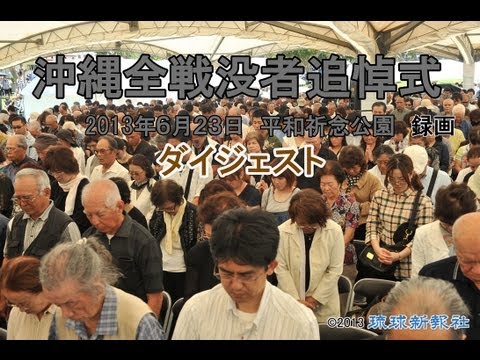 Go To Video
Previous Article:
40% of Battle of Okinawa survivors suffer from PTSD
Next Article:
Eisa Dance Monument set up at Koza Athletic Park
[Similar Articles
]