Naha team wins traditional dragon boat race
May 6, 2013 Ryukyu Shimpo
Many families and tourists visited Naha Port on May 5, the final day of the Naha Harii 2013 dragon boat race. It was slightly overcast in the morning, but the skies became clear in the afternoon and overall the three-day event was blessed with fine weather. The Naha team won the main race. People enjoyed the races, a variety of stage performances and fireworks.
According to the organizers, about 98,000 people visited the venue on the final day and the total number of participants was about 204,000 for the three days.
Three teams, including those from Naha, Tomari and Kume took part in the main race. With a time of 5 minutes 17.38 seconds, in a very tight finish Naha claimed victory ahead of Tomari, which was targeting a string of victories. The Naha team displayed great paddling skills. Its captain, Kai Odo, said, "Teamwork won the championship for us. This is the first time for us in four years, but we will win again next year."
The winner of the Open Division A (men's) was the U.S. Army's team, the Torii Knights, and Okinawa City Fire Station team won Division B.
(English translation by T&CT, Mark Ealey)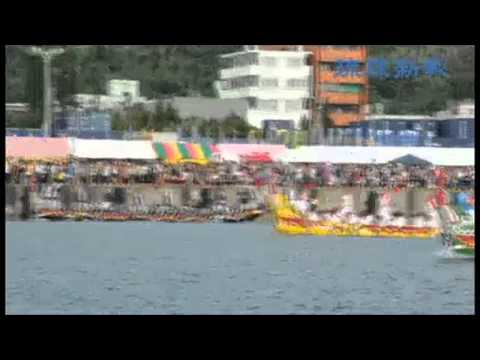 Go To Video
Previous Article:
More than 100 Marines parachute jump from MV-22
Next Article:
Ishigaki and Kauai commemorate 50th anniversary of sister-city relationship
[Similar Articles
]