F/A 18 Hornets drop cluster bombs in the sea around Okinawa
March 15 2013 Ryukyu Shimpo
On March 14, four F/A 18 Hornets belonging to units based at Marine Corps Air Station Iwakuni took off from Kadena Air Base.
The fighter aircraft are reported to have conducted training over the sea around Okinawa, where they dropped at least 14 of the 18 cluster bombs they were carrying.
About two and a half years have passed since September 2010 when these aircraft last carried cluster bombs. Kadena currently hosts around 20 Hornets. It has been confirmed that the F/A 18 Hornets that took off Kadena Air Base on that day, carried 250 kg bombs, 500 kg bombs and 500 kg precision-guided bombs in addition to the cluster bombs, which are prohibited in a growing number of countries.
(English translation by T&CT, Mark Ealey)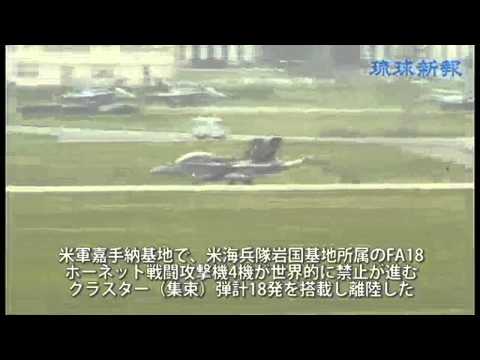 Go To Video
Previous Article:
Okinawan Intellectuals criticize Japanese government for political use of the Emperor
Next Article:
Air China International to resume flights between Beijing and Naha in July
[Similar Articles
]