Coming-of-Age day ceremonies held throughout Okinawa
January 14, 2013 Ryukyu Shimpo
On January 13, the day before Coming-of-Age Day, a Japanese national holiday held annually on the second Monday of January, ceremonies were held in 20 cities and towns, including Naha, Okinawa, Uruma, Urasoe, Ginowan, and Nago. Young people dressed in suits and traditional kimonos attended the ceremonies from which they stepped out as adults.
The Okinawa Municipal Office held a ceremony in the city hall and celebrated 1685 young people newly becoming adults. Student of the Okinawa Christian Junior College Ayane Takaesu stated in her speech, "I am happy and proud, but am also mindful of the responsibility that comes with becoming an adult. As civic-minded adults, let's strive to create a bright future."
Mayor Mitsuko Tomon said, "You may not know what to do when you encounter unknown situations, but you have youth and passion so you can make your dreams and hopes come true. If you do your best, you can make things happen. I hope that you take up the challenges ahead of you." According to the Okinawa Prefectural Office, 17323 people became new adults, 203 fewer than last year.
(English translation by T&CT, Megumi Chibana and Mark Ealey)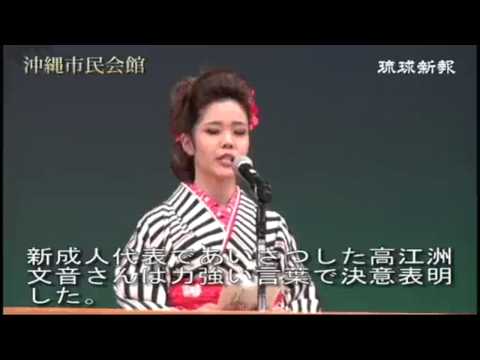 Go To Video
Previous Article:
Sweet potato weevil eradicated on Kume-jima
Next Article:
Karate master promotes the martial art in North America and Europe
[Similar Articles
]