Dalai Lama agrees that the current concentration of bases in Okinawa reflects discrimination
November 13, 2012 Ryukyu Shimpo
On November 12, in Okinawa, Tibetan spiritual leader the 14th Dalai Lama suggested how the Okinawan people, who suffer under the heavy burden of U.S. military presence, could take action. The Dalai Lama stated that the Okinawan people are well-educated and know about economic issues and human rights. He said that he would like them to look at the reality of their situation in a calm and collected manner rather than letting their emotions take control. He went on to say that they could use the written word in the likes of articles to convey the fact that discrimination does exist, and that their human rights have not been respected.
The 14th Dalai Lama talked with representatives of the various organizers of this trip to Okinawa to give a special lecture, including Junichi Tomita, the president of the Ryukyu Shimpo. In response to a question from Tomita, the Tibetan spiritual leader agreed that it is only natural for the people of Okinawa to think that it is discriminatory that 74 percent of exclusive-use U.S. military facilities in Japan are located in the small island of Okinawa.
The Dalai Lama pointed out that the people of Okinawa need to explain the human rights and equality issues to the academics in universities and research institutes in Japan.
Prior to this meeting, at 9:00am, the 14th Dalai Lama held a press conference in a hotel in Yaese Town. With regard to the territorial dispute over the Senkaku Islands, known as Diaoyu in China, he said, "China needs Japan. Japan needs China. That is the reality. This is more important. To solve problems you must talk."
(English translation by T&CT, Mark Ealey)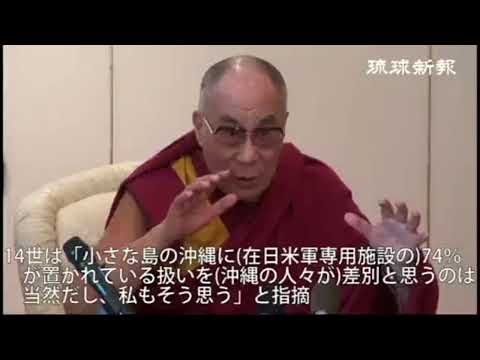 Go To Video
Previous Article:
Okinawan Police will not arrest the U.S. serviceman who trespassed and assaulted a teenage boy in Yomitan
Next Article:
U.S.-Japan biennial joint-bilateral field training exercise starts on White Beach
[Similar Articles
]