Site of the Minatogawa Man remains goes municipal after land acquisition
September 23, 2012, Masaaki Umeda of Ryukyu Shimpo
Yaese Town will start promoting the Minatogawa Fissure archaeological site in Nagamo as one of the main tourist sites in southern Okinawa. The plan to promote the site where they found the 18000 year-old remains of the Minatogawa Man includes purchasing land from private owners, designating it as a cultural asset and constructing tourist facilities nearby.
Yaese Town decided in June to allocate 113 million yen from government subsidy funds to the project, creating budget for land purchases and to enhance tourist facilities. The area will be designated as a cultural asset after the land acquisition, and the site will then become a sightseeing resource.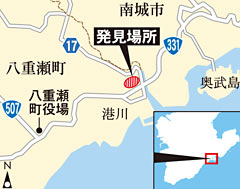 There were calls for community-level conservation when Yaese was known as Gushikami Village, and while negotiations with the landowners occurred, they failed due to insufficient funding. The main landowner, Genkei Hachimine, commented, "Talk about the purchase first appeared about 30 years ago. We have been waiting for this day to have our local government look after the land. In keeping with my dead-father's wishes, I want to fully support the town on this."
Isamu Chinen, the president of the Society for Okinawa Archeology, said, "From an anthropological perspective, this is a precious place that in future may even be registered as a world heritage site. There was a risk of us not being able to preserve it if it were left unattended, so we are delighted to hear this news."
The town will start defining the area of land for the intended purchase, moving ahead with negotiations with landowners and leaseholders. They will invite experts to form an exploratory committee to decide upon the manner of utilization after the purchase.
Houji Hiyane, the mayor of Yaese Town commented, "We would like to establish tourist facilities around the Minatogawa Fissure archaeological site and make it into a significant tourist attraction."
Minatogawa Fissure
In 1968 Seiho Oyama discovered the Minatogawa Man with other animal fossil at Gushikawa Village (now Yaese Town). The amount of human bones that he found is thought to represent five to nine bodies. This fissure is a valuable site for study of the people of the Palaeolithic era.
(English translation by T&CT, Kyoko Tadaoka and Mark Ealey)
Previous Article:
Daughter makes kimono for mother's beiju celebration
Next Article:
More than 1000 citizens hold rally in Nago calling for withdrawal of Osprey
[Similar Articles
]