Collector acquires tickets and commuter passes of a street-car that operated in Okinawa in the prewar period
July 22, 2012 Taichi Hirayasu of Ryukyu Shimpo
Chatan resident Shigeo Teruya, a self-employed worker who collects Okinawan valuable paper materials, acquired tickets and commuter passes of the street-car that operated in Okinawa for about 20 years from 1914. Referring to the fact that the street-car operated for a relatively brief period, essayist Yutaka Hajime, who is acquainted with the history of railroad in Okinawa, said, "It is very rare to come across an actual ticket." Teruya and Hajime both said that they have never seen actual tickets that were publicly exhibited.
The street-car commenced operation in May 1914 and is said to be the first form of public transport in Okinawa because it started seven months earlier than the light railway that had commenced operation in December of the same year. The street-car ran for about seven kilometers from Shuri to Sakashita, Sogenji and Nishinjo, with Tondo at the end of the line. It ceased operation in 1933 because of the increased use of buses in Okinawa.
Teruya acquired a large number of materials, including commuter tickets, student tickets and postcards depicting the street-cars. He also owns timetables and tickets of the light rail system.
Teruya said that he found all of the items in antique shops and auctions outside of Okinawa.
He has collected stamps since he was in elementary school, and started collecting items related to the street-car and railroad about 20 years ago. While collecting them, Teruya came to sense that they were very rare. He has also collected many tickets and photographs and says, "In future, I would like to look for tickets of the horse-drawn streetcar that operated between Yonabaru and Awase, and for street-car timetables."
Hajime said, "Although many people know that the light railway operated until the Battle of Okinawa, the existence of the street car was barely known because it only operated for a brief period." With regard to street-car tickets, Hajime said, "Although I have seen copies of these tickets, this is the first time for me to see an actual ticket. It is really valuable."
(English translation by T&CT, Mark Ealey)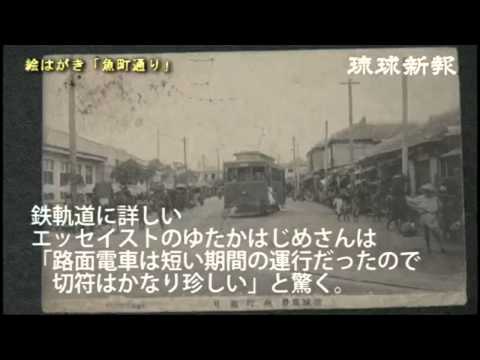 Go To Video
Previous Article:
Hundred-year tree-planting campaign started to make sanshin out of locally grown Kuroki
Next Article:
Defense Minister says that he possesses no data on the flight distance capabilities of the Osprey on autorotation in an emergency
[Similar Articles
]