Okinawa Kizuna Declaration
May 27, 2012 Ryukyu Shimpo
The 6th Pacific Islands Leaders Meeting (PALM6), which was held at the Bankoku Shinryokan resort in Nago, came to a close on May 26. Leaders from 16 Pacific island countries who participated in PALM6 released a joint document named the Okinawa Kizuna Declaration, which centers on five themes such as expanding cooperation in dealing with natural disasters and maintaining maritime order in the Pacific.
At the press conference, Prime Minister Yoshihiko Noda, who co-chaired the summit, said, "The Japanese government intends to provide up to 500 million dollars in aid over the next three years to support the sustainable development of Pacific islands including disaster cooperation." Cook Islands Prime Minister Henry Puna said, "The spirit of kizuna (bonds) dominated our discussions throughout and because of that we could reach consensus and agreements." Noda also stated that the Japanese government intends to cooperate in reducing disaster risks by setting up an early warning system capable of predicting the arrival time of tsunamis caused by earthquakes.
The spouses of the leaders visited elementary and secondary schools in Onna and spoke with students involved in activities to help protect coral reefs.
The Japanese and Pacific island leaders agreed to cooperate under the declaration, focusing on the five themes of (1) response to natural disasters (2) environment and climate change (3) sustainable development based upon human security (4) people-to-people exchanges and (5) maritime issues. The Japanese government announced that it will provide aid to the tune of 500 million dollars over the next three years to the other participant countries. Noda announced the "Kizuna Project," through which 300 young people from Pacific islands countries will be invited to Japan this year to promote their understanding on its recovery from the Great East Japan Earthquake last year.
In the context of China's growing influence in Pacific islands rich in fishing and other natural resources, Japan and the United States, which was invited to the summit for the first time, added maritime security to the agenda and confirmed the need to maintain maritime order in the Pacific.
During the press conference, Noda said, "Okinawa is similar to Pacific islands in terms of geography and climate. Okinawa and those islands also have the same problems since their remote islands have difficulty in securing water and energy. It was very meaningful to hold the summit in Okinawa in terms of cooperation in working on similar problems."
(English translation by T&CT, Mark Ealey)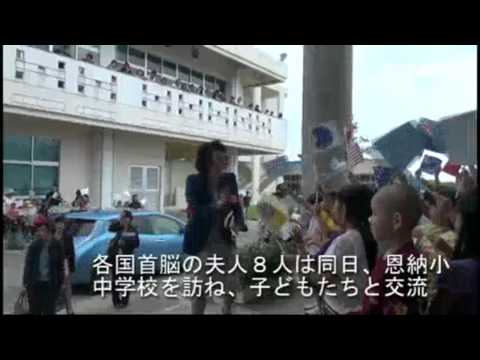 Go To Video
Previous Article:
One of the largest wartime shelters discovered in northern Okinawa found in Motobu
Next Article:
Former chief analyst states that the MV-22 has a very serious issue in terms of safety
[Similar Articles
]