U.S. military personnel seen training with rifles in Camp Kinser close to Route 58
February 14, 2012. Photograph by Yasuhide Matayoshi of the Ryukyu Shimpo
U.S. military personnel were seen training with firearms at around 3:30pm on February 13 at a location near the Camp Kinser perimeter fence beside Route 58 in Nakanishi, Urasoe.
Passersby looking through the fence became concerned when they saw soldiers lying down holding rifles.
About 40 personnel were involved in the training and although many of them were pointing their rifles in the opposite direction from Route 58, some of the soldiers were seen to point their weapons parallel to the road. Some of them raised their rifles in the firing position as close as six meters from the fence but it is unclear as to whether or not the weapons were loaded. The personnel involved completed this drill before 4:00pm.

There is a residential area directly across the road from Camp Kinser. An Urasoe Municipal Office staff member asked Camp authorities about the drill after receiving reports from residents, and Camp Kinser staff responded that this was a routine training exercise that had begun the previous week. They explained that they had instructed the soldiers not to point their weapons towards the fence and that they are in the process of confirming the details of how the drill was carried out.
Marine Corps personnel in Camp Kinser were seen pointing rifles toward the road during a training exercise in 2005.
(English translation by T&CT, Mark Ealey)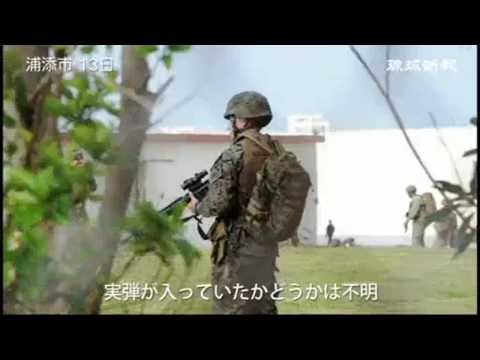 Go To Video
Previous Article:
Ryukyu Dynasty banquet reenacted with traditional dragon boats on the Ryutan Pond
Next Article:
Students from Dalian on Okinawan culture experience tour
[Similar Articles
]