Motobu Yaedake Cherry Blossom Festival kicks off
January 20, 2012 Ryukyu Shimpo
Taiwan cherries have begun blooming and attracting people to see them at Mt. Yaedake, Motobu. The Motobu Yaedake Cherry Blossom Festival started on January 21 with the catchphrase of "One jump ahead."
On January 19, the temperature in Ishigaki island reached a record high for that month of 25 degrees celsius. Kenji Takeuchi, who was visiting Okinawa with friends from Tokyo said, "The pale pink blossoms have a glamorous air to them." He took some photographs of the beautiful scene under a clear blue sky.
January 21 is Daikan, traditionally the coldest day of the old solar calendar.
According to the Okinawa Meteorological Agency temperatures in Okinawa will be around the same as previous years.
(English translation by T&CT, Shinako Oyakawa and Mark Ealey)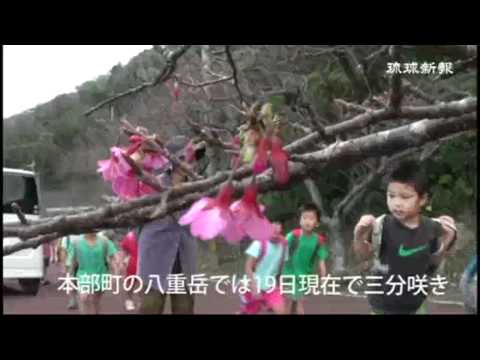 Go To Video
Previous Article:
Okinawa Prefectural Board begins to review Defense Ministry's environmental impact assessment report for relocation of Futenma U.S. Marine Corps Air Station
Next Article:
Men parade to encourage prosperity ― traditional doudoi held at Kushi, Nago
[Similar Articles
]