Wishing everyone good luck for the coming year
Dedication exercise at Shuri Castle
December 26, 2011 Ryukyu Shimpo
On December 25, a dedication exercise to present the Ryukyu Kingdom with wakamizu or sacred water called Nuubii no Hounou sai was revived at Shuri Castle. The water was drawn from Ookawa in the Hedo district of Kunigami and Hiijaa in Takushi in Urasoe. The solemn performance was organized by the Shuri Tonokura Community Association and was watched by many residents and tourists.
A group of forty people dressed in the period costume of officers and female priests called noro held sacred water as they paraded down the street. The party mixed the water from Ookawa and Takushi Hiijaa in front of the main gate called Enkaku-ji Soumon and entered through the rear entrance of the main hall through the Kyukeimon gate to offer a tribute of water to the court lady Amushirare.
During the Ryukyu Dynasty this ritual was performed to greet the New Year and to wish for peace and calm in the Kingdom, as well as the good health and longevity of the king. "This year, we had a lot of gloomy news about issues such as the earthquake, so there was a certainly lot of feeling involved when I offered the water and requested good fortune for the coming year," said Masao Miyagi the president of the Community Association.
(English translation by T&CT, Shinako Oyakawa and Mark Ealey)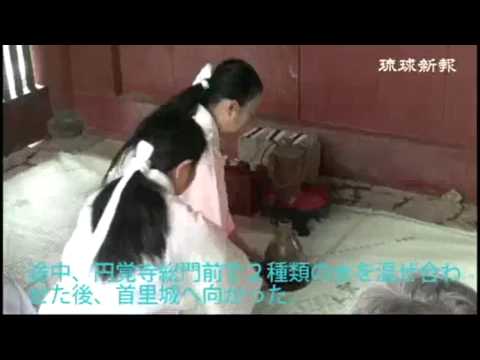 Go To Video
Previous Article:
Foreign Ministry document reveals that 1000 crimes were committed by U.S. military personnel in the twelve months before the reversion of Okinawa
Next Article:
Seifa Utaki the sacred prayer site to close six days a year from 2012 for preserve the environment
[Similar Articles
]