Illuminations at Mabuni turned on in the hope of peace
December 17, 2011 Ryukyu Shimpo
On the night of December 16, a ceremony to commence the 13th Itoman City Peaceful Illumination, making a wish for peace, was held at Itoman Farm for Tourists in Mabuni, Itoman. It will be in place until January 3. Mayor of Itoman City, Hirotsune Uehara, the chairperson of the event, said, "Here, where the Battle of Okinawa came to an end, let us make a wish to build a peaceful world without war." With that, he and the community's elementary, junior high and high school students turned the illumination on.
This year's theme is "Meeting and Bonding." There are also art objects designed by local residents and Okinawa Prefecture University of Arts students.
The entry fee is 200 yen for high school students and adults, but there is no charge for children of junior high school age or under.
The farm opens at 5:30pm and the illumination runs from 6:00pm to 10:00pm, except on December 31 when it goes until 0:30am on January 1. There will also be a live countdown that evening. For further information please contact the Planning Committee. Telephone: 080 (6495) 8535.
(English translation by T&CT, Lima Tokumori and Mark Ealey)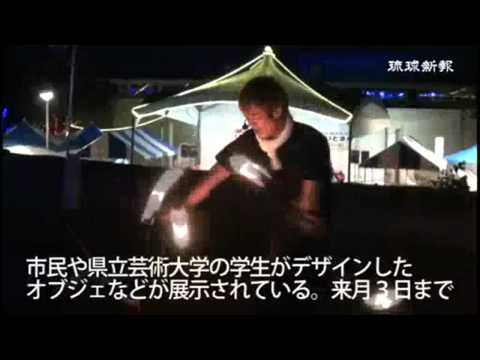 Go To Video
Previous Article:
Town office to carry out an environmental survey in the Hamby area of Chatan regarding the defoliant issue
Next Article:
War victim group seeks to establish a war victim assistance law
[Similar Articles
]