Women stage a protest rally showing a red card on the issue of the former Okinawa Defense Director's injudicious remarks
December 8, 2011 Ryukyu Shimpo
A protest rally organized by the Executive Committee of Women was held on December 7 at the Kyoiku Fukushi Kaikan in Naha. Many participants expressed their revulsion towards the injudicious remarks made by former Okinawa Defense Director Satoshi Tanaka and their opposition to the construction of a new base at Henoko. They adopted a letter of protest against the injudicious remarks and demanded that, as an indication to the Okinawan people of genuine feelings of apology, the government cancel its plans to construct a new base plan at Henoko. Approximately 300 people attended the rally, in which they raised red cards in the air, expressing their strong feelings against Tanaka's remarks.
Suzuyo Takazato, who is co-chair for Okinawa Women Act Against Military Violence, addressed the participants on behalf of the organizers, saying, "The Okinawan governor, the mayor of Nago, the mayor of Ginowan and many other people have spoken out against further construction of bases and they have taken action on this. We must continue our efforts at Henoko and Takae. Former Okinawa Defense Director Satoshi Tanaka's remarks are a challenge to the voices of opposition of the Okinawan people. We need to be heard and to press hard to stop any new base construction at Henoko, which is ultimately what the former director was aiming for."
At total of 27 organizations, including local women's groups, participated in the rally. Representatives of groups voiced their opinions angrily and vehemently, making statements such as, "The removal of the military bases on Okinawa is the only way to relieve our pain." Rejecting any involvement in United States led wars, Henoko resident Etsumi Taira said, "The U.S. military carries out training on Okinawa in order to kill people. We don't want people to be killed in places like Iraq or Afghanistan. We want to live together without people having to be killed."
In the protest letter, the participants stated that, "The former Okinawa Defense Director's remarks are a reflection of the long-standing government policy of forcing bases on Okinawa," and that, "The government pretended to apologize to women and to the people of Okinawa, but it is trying to disguise the discrimination that exists against Okinawa." With that, they called for the cancellation of the plan to build a new base at Henoko. Copies of the protest letter will be sent to the Prime Minister, the Chief Cabinet Secretary, the Defense Minister, the Foreign Minister, the Minister of State for Okinawa, the Cabinet Office Minister Extraordinary and the President of the United States.
(English Translation by T&CT, Mark Ealey)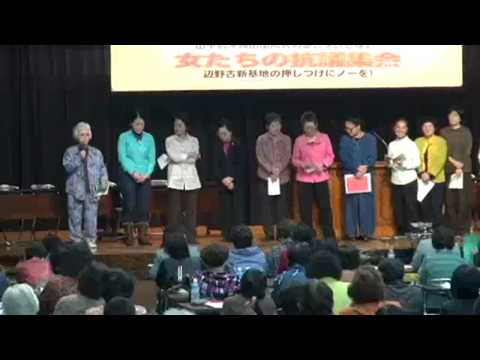 Go To Video
Previous Article:
Azama named National Language Teacher of the Year
Next Article:
Kawasaki Ward plans to publish recollections of U.S. military jet crash
[Similar Articles
]