Ryukyu Dynasty Parade held in Kokusai Street as part of the Shurijo Castle Festival
October 31, 2011 Ryukyu Shimpo
In the afternoon of October 30, the third day of the Shurijo Castle Festival, a Royal Procession replicating a scene on a Ryukyu Dynasty picture scroll was held in Kokusai Street in Naha. The splendor and beauty of the parade fascinated local people and tourists alike.
About nine hundred people in colorful Ryukyuan traditional costume participated in the procession, parading to the beat of a gong and a tune played on a flute.
As he watched the procession go by, 37 year-old woman, who was visiting from France with his family, said, "I have seen several major Japanese festivals, but this parade is really worth seeing because mainland Chinese culture is also mixed in."
On November 3, a ceremony featuring the "king" and "queen" will be held at the seiden of Shurijo Castle from 12:50pm, and then from 2:00pm the koshiki gyoretsu (traditional procession) will go as far as the Torihori intersection.
(English translation by T&CT, Lima Tokumori and Mark Ealey)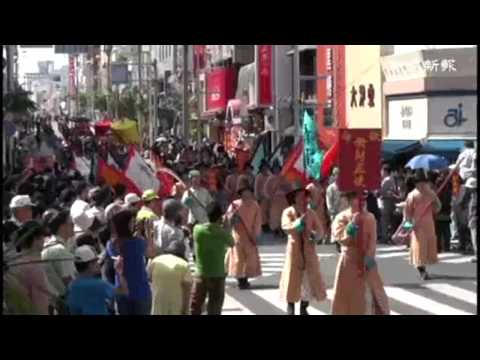 Go To Video1

Go To Video2
Previous Article:
World's longest habu snake
Next Article:
Bat causes outage for 2700 households in the Gushikawa area
[Similar Articles
]