Big harvest festival held in Tomigusuku
September 25, 2011 Ryukyu Shimpo
A big harvest festival, in which Maitreya or future Buddha is received in Year of the Hare or the Year of the Rooster is held once every six years, this time in Umai, Bin, Tomigusuku City on September 24. Machibo, a type of bojutsu (staff-wielding) dating back about 200 years was also performed.
Spectators were excited when the gong was struck to signal the start of machibo as about 160 men entered the venue.
Two-men bojutsu kata called tanker bo, as well as three-men and five-men versions were performed. The spectators were generous in their applause for the brave performances of the men who ran and jumped with sticks. In the final phase of the festival the participants shouted Hya-Hya to the sound of a gong. Two human chains called ubo and mebo merged into one, and the spectators erupted in applause as the participants raised their sticks.
Construction worker 30 year-old Masaki Toma, who participated in machibo for the third time, proudly said, "I was really excited about the festival. It is a great tradition inherited from our ancestors."
Office-worker 32 year-old Satsuki Yoshimoto, who visited the festival with ten of her relatives, said, "Although fewer people took part this year, they all worked in with each other perfectly and looked tremendous."
The festival including a michijune, machibo and eisa was also held on September 25.
(English Translation by T&CT, Mark Ealey)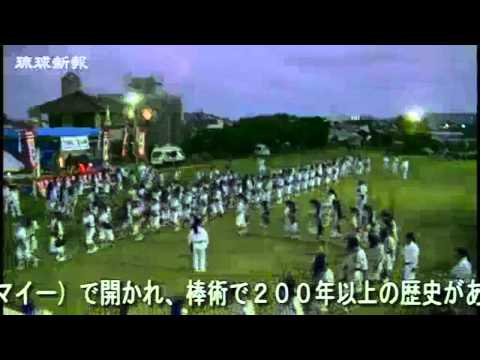 Go To Video
Previous Article:
Kathe Kollwitz's art exhibition held in Beijing
Next Article:
Doubts raised regarding the accuracy of a quotation from U.S. president Obama's remarks about the Futenma relocation issue
[Similar Articles
]