JASDF F-15s moved to Naha Airport from Hyakuri Air Station
August 25, 2011 Ryukyu Shimpo
Eleven F-15s fighter planes and one T-4 training aircraft of the Hyakuri Air Base (Ibaraki Prefecture) of Japan Air Self-Defense Force (JASDF) arrived at Naha Air Base on August 24 on a temporary transfer to carry out training.
The fighter squadron will be stationed in Okinawa for about one month. Local residents are concerned that noise pollution will be increased during this period by about 1.8 times the normal level in and around the base.
The first four F-15s arrived at Naha Base at 3:00pm, August 24, followed by a further seven planes from Hyakuri Air Base at 4:00pm. One T-4 training plane also arrived that morning.
The Naha Base official initially announced that twelve F-15s and two T-4s would move to Naha. It is not known why the other two planes have not yet come.
According to a Naha Base official, the Hyakuri Air Base has had its power consumption reduced by about 20% in July in comparison to the same month the previous year, so F-4 fighter planes based at Hyakuri were relocated to Chitose Air Base, in Hokkaido, from July 5 to August 4.
The F-15s at Naha Air Base have not resumed full flight training since one crashed into the East China Sea in July. The number of flights increasing at this base may further intensify concerns of local residents.
(English Translation by T&CT, Mark Ealey)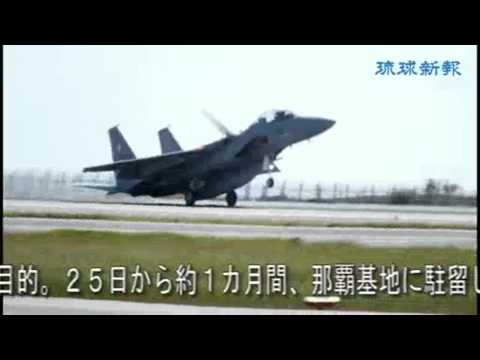 Go To Video
Previous Article:
Okinawa Soba Development and Heritage Association Established
Next Article:
Tomishiro Chuo Hospital establishes alliance with counterpart in Thailand
[Similar Articles
]