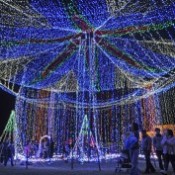 December 15, 2013 Ryukyu Shimpo
The 15th Itoman Peace Illumination started at the Itoman Tourist Farm in Mabuni, Itoman on December 14. This year's theme is the prayer of light to connect people. About 300,000 lights were lit up at the same time.
The lights are on from 6.00pm to 10.00...